Learn how to write Task 2 essays more quickly and meet all the Band 7+ requirements.
This course has been rated 4.7 by 260 students:
What is included in this course?
• Video lessons that cover every aspect of IELTS Writing Task 2 in less than four hours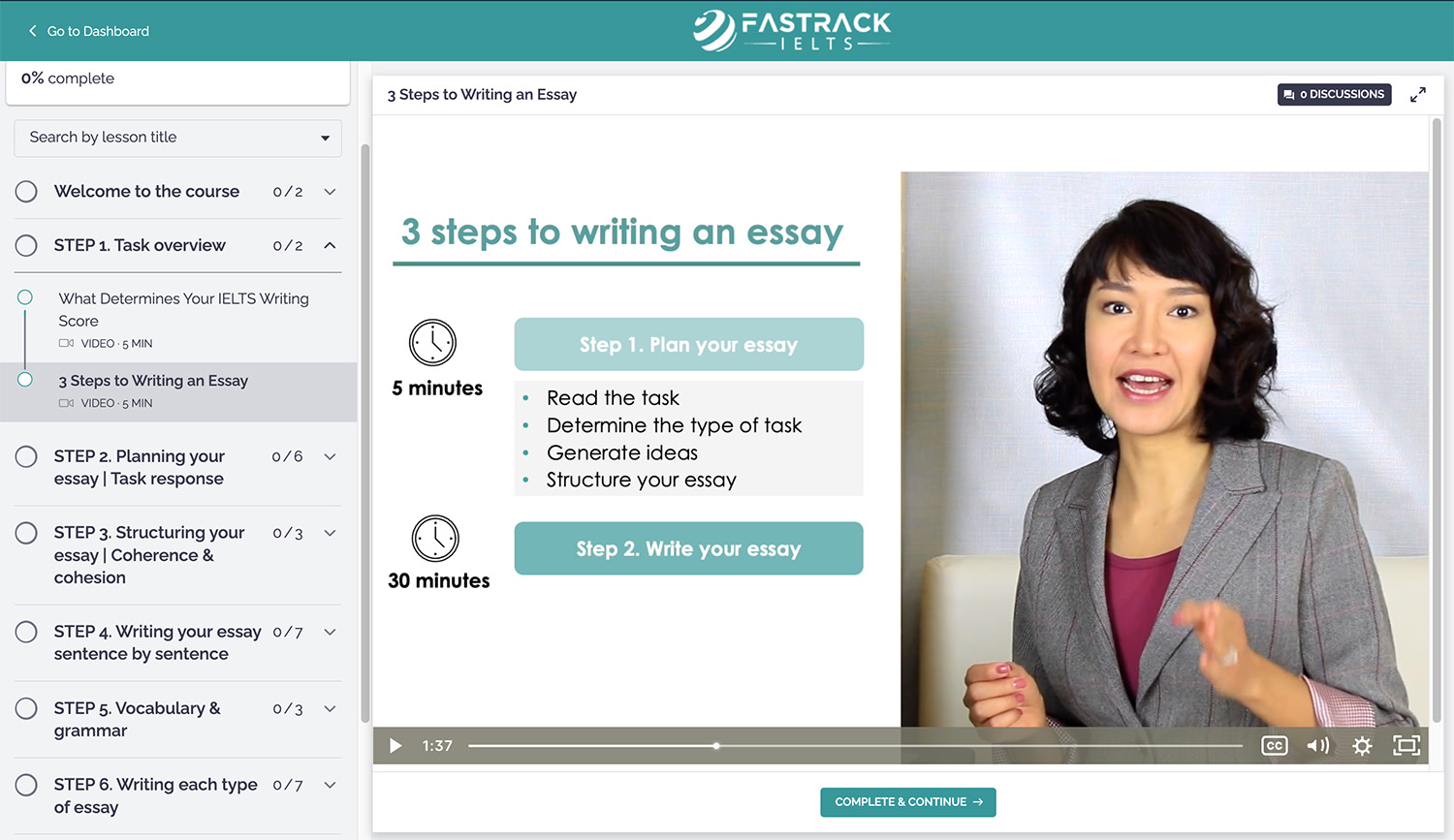 • Downloadable PDF guides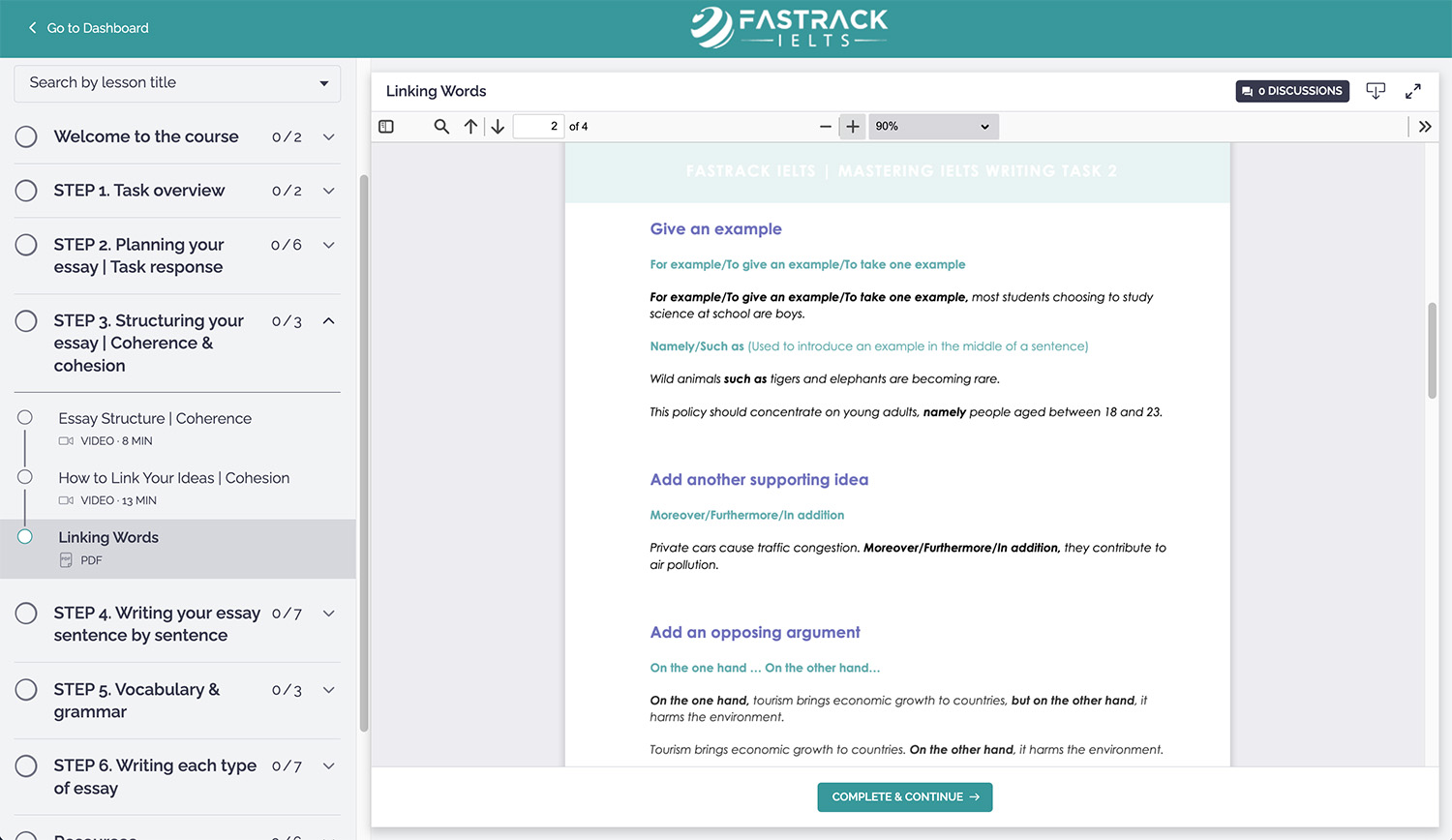 • 10 sample answers, two for each type of essay
Course curriculum
(One lesson in STEP 4 is available for a free preview)
2

What Determines Your IELTS Writing Score

3 Steps to Writing an Essay

3

Five Types of Task 2 Questions

Address All Parts of the Task

Present a Clear Position/Opinion

Present Relevant Well-Developed Ideas

4

Essay Structure | Coherence

How to Link Your Ideas | Cohesion

5

Writing Your Essay Sentence by Sentence

Body Paragraphs. TET Formula

Body Paragraphs. Practice 1

Body Paragraphs. Practice 2

6

Grammatical Range & Accuracy

7

Writing Each Type of Essay

Advantages and Disadvantages

Two Views and Your Opinion
Master your IELTS Writing Task 2
How can I pay for the courses? 
We accept a variety of debit and credit cards (including Visa and Mastercard). You can also pay via Google Pay, Apple Pay and PayPal.
Is this course suitable for IELTS Academic or General Training?
Both. The requirements for Writing Task 2 are absolutely the same in IELTS Academic and IELTS General Training.
How long will it take to complete the course?
The video content will take 3 hours and 45 minutes to complete. 
The practice tasks will require additional five-six hours of your time. Please allow extra time to study the PDF guides.
How long will I have access to the course?
The course is yours for as long as you need it.
Once you join the course, your access will be activated for one year. If it expires before you have passed your exam, send us an email and we will be happy to extend it free of charge.
Is the information in your courses the same as in your YouTube videos?
Our paid courses and free YouTube videos are completely different. Our courses offer comprehensive in-depth preparation. In each course, you'll learn how to meet each requirement of this task and prepare Band 7+ answers, step by step. We do not share this information on YouTube.
I need to improve my Writing score from Band 5 to Band 7. Is this course right for me?
Your IELTS Writing score depends on your English skills as well as the thoroughness of your exam preparation. If your current score is 1.5 points or more below your target score, taking this course alone will not be sufficient to achieve the required improvement. In that case, I recommend taking an extended Academic English course in a language school alongside your IELTS preparation.
Will anybody check my essays? 
No, this course does not include an essay checking service, allowing us to keep the prices down. However, you will find sample answers to which you can compare your essays.
What if I do not like the course? 
This course comes with a 100% Satisfaction Guarantee. If you complete the full course, don't feel that it worked for you and submit your practice tasks within 14 days of purchase, we will promptly refund your course fee.
Master your IELTS Writing Task 2